Rental rates in the Sun City have risen faster in the last five years than cities like New York and San Francisco. That's according to the online investment analysis site Nerd Wallet, which compiled a list of cities with the fastest-growing rents.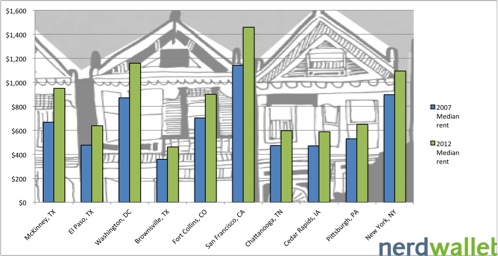 Via:
NerdWallet

Since 2009, rent has risen 33.5% in El Paso, largely in part to a major increase in demand due to an economy bolstered by Fort Bliss. This puts El Paso at number two on the list. The site states that a thriving energy industry and a large presence of federal regulatory agencies also add to the local economy.
Rents in the United States are rising an average of 3.9% per year, nearly twice the inflation rate, with prices surpassing $1,000 a month on average. With mortgage rates still near all-time lows, some may find it cheaper to buy a home instead of renting.
At current average rates, a full-time worker needs to earn $18.92 per hour in order to rent a two-bedroom apartment without spending over 30% of their income on housing, according to Nerd Wallet.
Texas features prominently on the list, with three of the top five cities located in the Lone Star State. McKinney, located near Dallas, topped the list with a 42.6% increase in rents in the last five years. Brownsville came in at number four with a 28.5% increase.
The list of the top 20 can be seen at Nerd Wallet's website,
www.nerdwallet.com
.